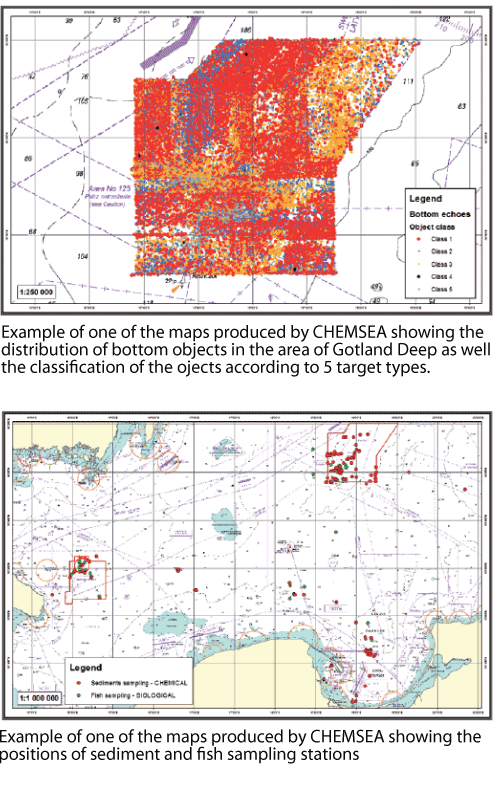 The Polish Naval Academy designed a geospatial database based on ArcGIS Geographic Information System developed by ESRI to store all the measurement data obtained during the course of the CHEMSEA project. This includes, in the first step, the bathymetric data obtained with the multi-beam echosounder by the research vessels R/V Baltica and R/V Oceania, along with the sea bottom mosaic picture composed of sonograms collected by towed side scan snoar. Subsequently, the database was also filled with oceanographic and biochemical data reflecting results of laboratory analyses of sediment samples and studies of biota tissues.
The vast amount of GIS data stems from a hydrographic survey conducted at the official Gotland Deep dumping ground. Altogether, MBES and SSS measurements revealed the presence of 39,260 bottom objects in the area. In order to select bottom objects for further detailed investigation with ROV, it was necessary to categorise them. The primary target categorisation into five classes was based on the size of highlights of detected objects and their acoustic shadows, with Class 1 objects with dimensions of 1.8 x 0.5 m (most probably munition pieces), Class 2 targets with strong echo and clearly visible pit/shadow but that are the wrong size, Class 3 objects with strong hydroacoustic reflection but without the pit/shadow, Class 4 as detected wrecks and Class 5 unrecognized targets.
Classification of targets was based on analysis of sonograms done by experts of the Swedish Maritime Administration and Swedish Navy, Mine Warfare Data Center (MWDC) and supported with artificial intelligence tools, such as the neural networks used by IOPAN experts to analyse both sonograms and raw recordings of SSS signals. In order to verify the correctness of target classification, selected Class 1 objects were verified visually during underwater ROV operations.
The coordinates of munitions and contaminated sediments detected through CHEMSEA surveys were integrated into the maps, including information on CWA type, ammunition or package condition, bathymetric, hydrologic and biotic conditions of such places and other data relevant to maritime security. The positions of sediment samples taken as well as fish sampling stations are also shown on the maps produced. Also included are the photos obtained during hydroacoustic measurements and visual data gained by ROV.
Please see below for some of the maps produced by the CHEMSEA project: